Flapper Inspired Dresses || Black Beaded Sequin
Tonight, just a little modern flapper fashion to end the weekend…sequins and beads, always a stunner! Flapper inspired dresses are all the rage these days, like this beaded beauty by Rachel Gilbert…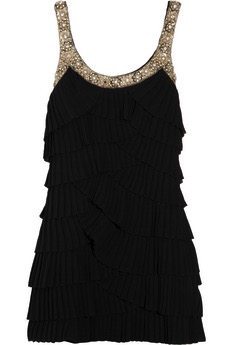 Also in love with this gorgeous Alberto Makali black beaded flapper dress
:
And this Art Deco dress by Anna Sui:
Perfection! Next up, this feathered, beaded, fabulous flapper dress by Sue Wong
.
Finally, how much do I love this Royal Underground Flapper Dress. The scalloped art deco hem, the sequins, the length (i.e. SHORT!). Absolutely gorgeous.
This post includes one or more affiliate links. If you purchase something after clicking through, we may receive a small commission from the designer, retailer or shop (thanks!) More info here.