Flapper Costumes | Authentic 1920s Costumes
If there's one thing we know around here (other than weddings!), it's flapper costumes. Or more accurately, flapper dresses, since we kinda sorta feel they should be worn for any and all special occasions and not reserved for Halloween and costume/fancy dress parties alone.
That said, Halloween IS approaching…!
This post includes one or more affiliate links. If you purchase something after clicking through, we may receive a small commission from the designer, retailer or shop (thanks!) More info here. 
This post has been newly updated for Halloween 2019!
So whether you're in the market for a 1920s costume for Halloween, or a stunning vintage style gown you can wear again and again: we've got you covered! Coming up, flapper costumes galore: beaded and fringed and gorgeous, every one. Take a look.
First up, we have a great new(ish) store to share with you: Wardrobe Shop, where you can find gems like these: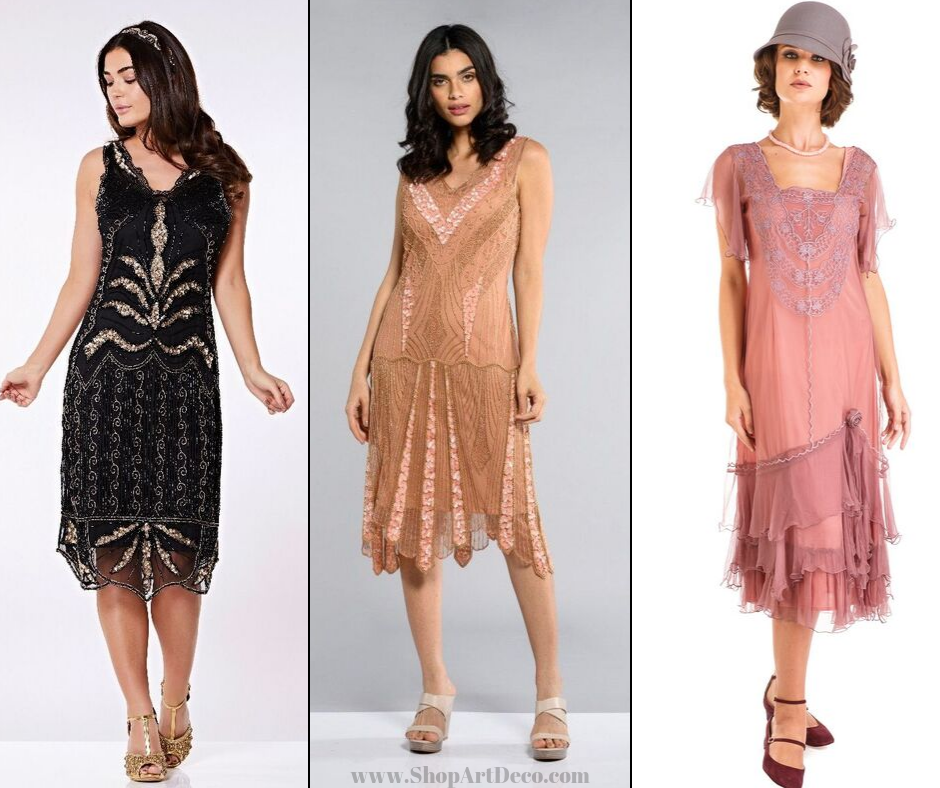 Next up here are just some of the gorgeous authentic 1920s costumes and flapper dresses currently available at Deco Weddings beloved sponsor Unique Vintage:

They offer a variety of styles and price points, with dresses in the less expensive "costume" realm as well as beautiful hand-beaded gowns that will stand the test of time. They've also got a wide selection of sizes, with many of their designs available in plus sizing.
Even better? They've also got lots of the necessary accessories for any 1920s costume, from shoes and bags to wigs and the all-important (and all-too-gorgeous) hair accessories:
Another designer with a wide variety of sizes and a collection of stunning 1920s flapper dresses? GatsbyLady, whose shop on Etsy is a veritable treasure trove of Jazz Age glam:
Now of course, we'd be remiss if we didn't mention the fact that we've got several gorgeous hand-beaded, higher-end flapper dresses for sale direct from us in our Art Deco Shop, as well as plenty of links to some others around the web:
Still looking? Surprisingly (or maybe not), Amazon actually has a fairly wide collection of art deco dresses and flapper costumes in the "costume" price range (i.e. under $60). Can't speak to the longevity of these dresses, but some of them certainly look stunning:
And finally you've got your classic Halloween shop finds at places like Spirit Halloween or  HalloweenCostumes.com. These dresses may not be hand-beaded, or feature the detail that some of the others do, but like Amazon's selection they're typically lower-priced, and there are some great finds there as well.
So how's that for some authentic 1920s costumes! Everything from $20 just-for-the-night party dresses up to stunning hand-beaded flapper costumes that will stand the test of time. Happy shopping, and Happy Halloween!
P.S. If you want something a little scarier than just "flapper girl", be sure to check out this zombie flapper makeup tutorial! (Not for the squeamish)