Art Deco Cake || Sugar Realm
Today we've got another amazing art deco cake from Deco Weddings favorite Sugar Realm. We featured their gorgeous art nouveau cake a while back, and originally discovered them with this incredible silver and gold art deco wedding cake, but I'm not lying when I tell you: this is my favorite yet. Take a look:

SUGAR REALM. You have done it again.
From Ileana of Sugar Realm:
The bride and groom, Monica & Jack had chosen a black, silver and gold color palette, inspired by the Great Gatsby Book Cover, and were attracted to the geometric configuration of its design. During our consultation, the couple also mentioned their love for traveling, and their attachment to Thailand, where they will be traveling for their honeymoon. Jack had lived in Thailand due to work, and mentioned how impressed he was by the magnificence of its architecture. The idea of creating an "Art Deco Temple" came to mind while trying to fuse the beautiful geometry of the Art Deco design era, and the tall configuration of a building or "temple".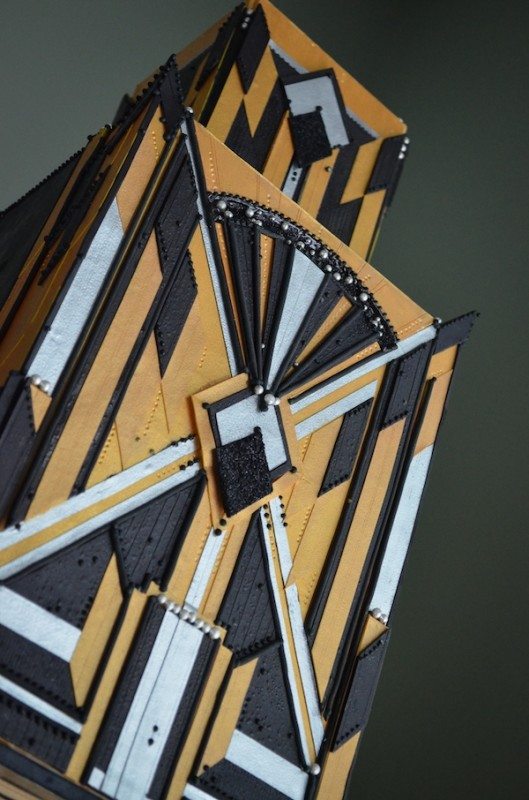 Absolutely stunning… and like the art nouveau cake, the (same) venue was part of the inspiration. The Hilton Netherland Plaza in Cincinnati, Ohio….
So beautiful. Oh, and have we forgotten to mention something extremely important? Yes we have. Not only does it LOOK great, I am deeply saddened I will not be able to taste the chocolate truffle sponge cake, paired with white chocolate and semisweet chocolate mousse. YUM. Oh we're not done? No, it's also infused with chocolate liquor, and Sugar Realm's luscious orange suzette, made of orange sponge with orange blossom and white chocolate mousseline, with a ginger infused syrup.
What? What. What. Amazing.